Collections analytics show you where to focus your collection and recovery resources for better results. Our segmentation engine provides the ability to dynamically define segments of the portfolio, by combining a non-restricting number of customer or account level characteristics, in order to apply alternative treatments to each of them. Support for collections scorecards can help you determine the debtor's propensity to pay and thus help you define what actions should be done to increase collections, thereby facilitating debt management decisions. For example, using a collection scorecard, lenders can identify those customers who require less interaction, or contact, to prompt payment.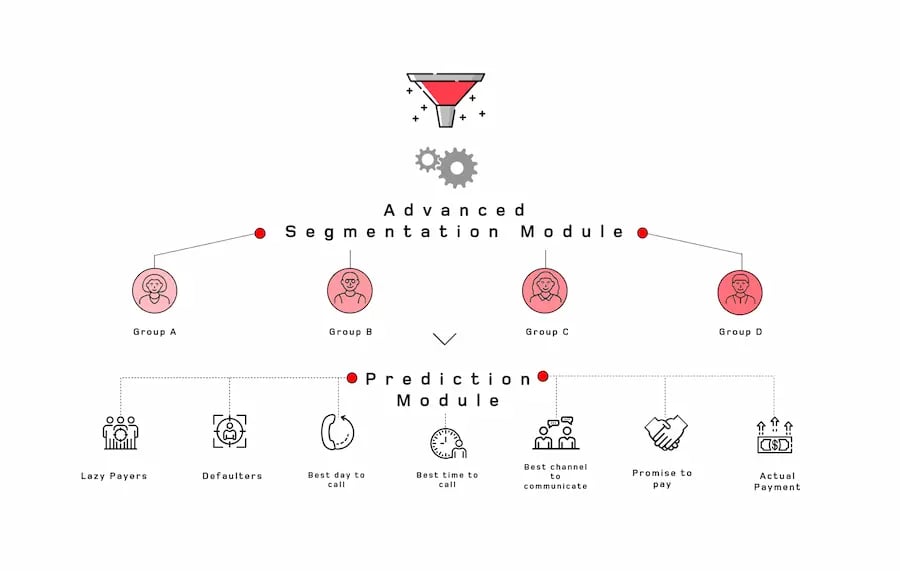 Data-driven strategies and more
EXUS can provide you with AI solutions for prediction and intelligent segmentation purposes.
Predictive modeling aims at building risk optimization tools with respect to debt-collection problems such as:
find the best time to call a customer,

find the most convenient channel to communicate with a customer (e.g., sms, e-mail, phone call, etc.),

calculate a probability of promise to pay,

calculate a probability of actual payment,

predict lazy-payer customers and

recommend treatment plans in a next-best-action context.
In addition to this, intelligent segmentation aims at grouping customers into homogeneous groups, identify patterns/trends, discover knowledge and build behavioral scoring models by mining customers' payment behavior.
By solving the aforementioned problems, the main goals are to maximize recovery rates and simultaneously minimize total communication costs.
Book a Demo
Get in touch to arrange a meeting or to book a demo. One of our debt collection specialists can help answer your queries.